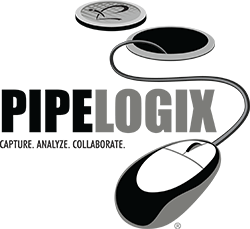 When it comes to NASSCO certified software, PipeLogix is the software of choice for ease of use, clarity, flexibility and informative reports.  New PipeLogix licenses also come with NASSCO's recently released PACP/LACP/MACP 7.0 coding language.
PipeLogix integrates with your camera equipment to make recording surveys easy.  This includes:
Connecting to your camera's video feed: PipeLogix connects to your camera's video feed allowing you to record and save survey videos in a variety of digital formats.
Integrating survey information into text overlays: PipeLogix communicates with your inspection equipment's controller giving it the information from your survey header or observations for easy video captioning
Integrated footage counter: PipeLogix communicates with your controller allowing you to zero out or set the footage to a desired length form inside the program.  Also, when you enter a new observation during a survey PipeLogix automatically supplies you with the current footage count.
PipeLogix is sold as modules so you can start with the basic inspection package and add modules as needed.  All modes are available with the core module and contain a complete set of pipe defect codes so you are up and running in 15 minutes, producing professional reports.
With release of version 6.5.0 Windows 10, Windows 8, and Windows 7 are all supported operating systems.  PipeLogix also fully integrates with all camera systems.
NASSCO Features In PipeLogix
All NASSCO PACP defect codes

All NASSCO LACP defect codes

Ten custom fields

Evaluation reports including quick rating

Code validation—required fields must have valid entries
Surveyors Name can be selected to automatically include their NASSCO Certificate Number

Import and Export to PACP Version 6.0 database (earlier versions of import supported)

Import/Export to a NASSCO PACP Version 7.0 database
Complete pipe defect code set

Choice of report formats

Database functions i.e. Backup, Filter, etc.

Context sensitive help file
In-house software engineer and technical support desk

Works on a laptop, desktop or rack mount computer

Free reader available for sharing reports electronically

Works with all CCTV systems